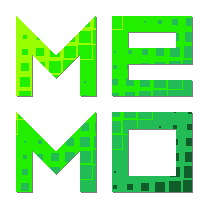 MeMO
Lately I realized I could make the startup and cleanup code of SkillGrid more robust, so I improved it further. Then, I made similar (and more general) changes to my own custom framework (not used by SkillGrid for memory conservation reasons), which thus has nowmore robust startup and cleanup code, too. MeMO uses such framework, so it almost automatically benefits from the improvements (all that was needed was changing a couple of instructions and reassembling the code).
This change alone justfied a new release, so, while touching up the manual in preparation for it, I remembered that I was asked 2 joysticks support on itch.io: I seized the chance to add that as well; and, in the process, other ideas came to mind - here is the full changelog...
v3.10 (29.5.2021)
* Built against latest custom framework (which makes the startup and cleanup more robust).
* Removed some leftover code that caused the program directory to remain locked.
* Added support for joystick in mouse port.
* Reworked/extended menu.
* Touched up hiscores graphics.
* Changed design of 'G' character.
* Made a few minor changes/optimizations.
* Added a new old-style 4 color icon (the previous one was accidentally deleted with the previous update).
* Improved/extended manual.
Files
pre-installed copy (.lha)
411 kB
May 29, 2021