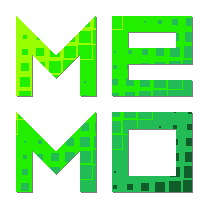 MeMO
Let there be sounds!
One more update, and this one brings sound effects back! I had removed - or better, omitted - them back in 2003, when I heavily reworked MeMO v1. These days I have rewritten the sound samples routines of my little framework precisely to re-add sound effects to MeMO: now, if you get tired of music, you have an alternative ;)
Additionally, a few other little improvements have been made.
v3.15 (14.8.2021)
Added sound effects.
Improved further outer antialiasing of characters on cards.
Made a few little optimizations.
Built against latest custom framework (which makes startup and cleanup more robust and has a bugfix).
Changed audio mode toggle key from [M] to [A].
Updated manual.
Note: I could not test this version on my Amiga 1200 because the monitor died. Last time I had tried it was yesterday, but this morning I made some more changes.
Files
pre-installed copy (.lha)
468 kB
Aug 14, 2021