BOH
A downloadable dungeon crawler for Windows, macOS, and Linux
THIS GAME IS 100% FREE, BUT, IF YOU LIKE IT, PLEASE OFFER SOME SUPPORT TO SOMEBODY WHO IS A VICTIM OF ANY KIND OF VIOLENCE.

---
FACE THE UNKNOWN AND SAVE THE WORLD!
In claustrophobic, puzzle-riddled, dangerous mazes, surrounded by countless enemies, you hunt the Evil Masters down with the purpose of eliminating them and the pain they brought. Determination, concentration, and quick reflexes will be your only allies in your desperate quest...
WHAT IS THIS?
BOH is a dungeon crawler where you need to solve puzzles, collect items, open passages, avoid traps, kill the Evil Masters and the minions they generate endlessly, and ultimately come out of the mazes in one piece. Keep cool, avoid the enemies as much as possible, focus on the labyrinths, and eventually you'll make it to the end.
BOH, thanks to its unique aspect and gameplay, is an immersive experience that makes you feel as if you were actually lost in those treacherous dungeons.
You can play any (unlocked) mission any time, and you can also decide how they look and sound by choosing freely one of the several themes available...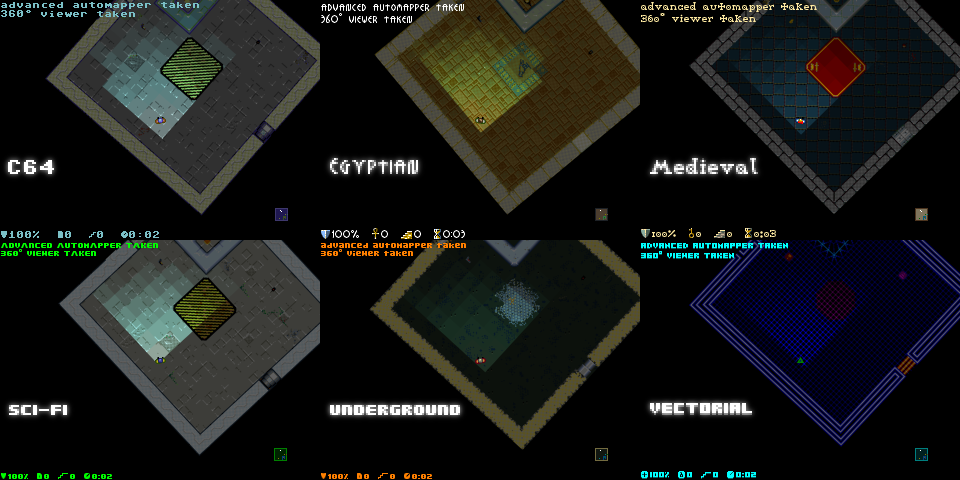 ... not to mention that, if you're the creative type, you can even create your own missions and themes (!) thanks to the developer's manual, which provides all the information needed.
And once you're done dispatching the baddies, you can also see how you fare against the other players in the world by submitting your records to the online standings!
---
SEE IT IN ACTION
The best way to really appreciate BOH is to play all the missions included in the demo. But if you want to get quickly an initial idea, enjoy till the very end this video, which shows six of the easiest missions played from start to finish, using all the available themes.
FEATURES
immersive & thrilling gameplay
63 missions + 30 missions to unlock + 7 training missions
missions divided in 5 levels of difficulty
multi-phase missions
multi-floor battlefields of any size/shape
mind-blowing puzzles and deadly traps
many power-ups/items
7 kinds of enemies
hand-pixelled retro 2D graphics
360° character-centric top-down view
real-time field of vision and lighting
context-sensitive sound effects
rich soundtrack
6 audiovisual themes
optional CRT/LCD filters
online world standings
possibility of creating missions, themes, and translations
interface in Danish, Dutch, English, Finnish, French, German, Italian, Norwegian, Polish, Spanish, and Swedish
SOUNDTRACK
You can listen to the soundtrack by inserting the CD in any CD player and pressing the PLAY button!
Listen to the menu tracks of all the themes now!
PHYSICAL EDITION
In 2009, the original BOH was released first as a professionally produced physical package:



Then, in 2018, to celebrate the 18th and final update, the game earned the ADVANCE tag and received another gorgeous physical release: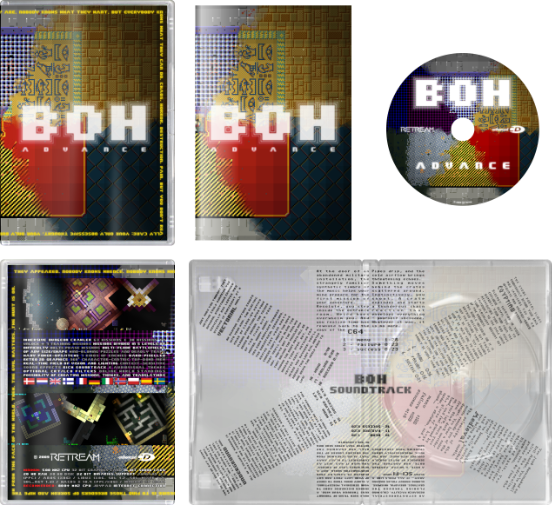 BOH ADVANCE was part of the BOH Deluxe package, which wrapped a copy of the former and a copy of the original BOH in an elegant sleeve: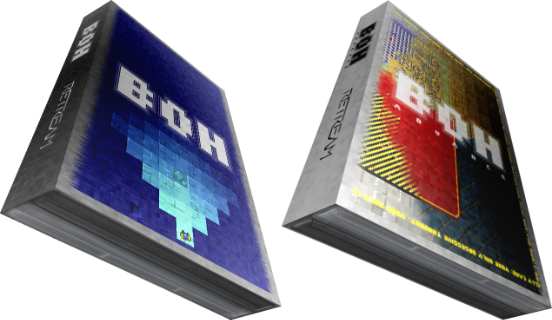 If you are interested in any of these items, please send an email to boh@retream.com.
SUPPORTED SYSTEMS
BOH runs natively on AmigaOS, AROS, Linux, MacOS, and Windows.
MINIMUM: 500 MHz CPU, 32 bit graphics card, 16 bit sound card, 20 MB RAM, 30 MB disk, 32 bit binaries support, AmigaOS 4.1 (PPC) / AROS (x86) / Linux (x86, SDL 1.2, SDL_mixer 1.2, SDL_net 1.2) / MacOS X 10.4 (PPC/x86) / Windows XP (x86)
RECOMMENDED: 800+ MHz CPU, joypad, internet connection
LINKS
Check out the Online Standings.
Read the user's manual.
Read the developer's manual.
Retrieve your itch. io key (for non-itch.io customers only).
---
THE SAGA
BOH is part of a saga that, as of writing, includes six different games.
BOH opens the story, with the Evil Masters bringing chaos to Earth. Huenison focuses on the fight against one of them, the eponymous character. Eventually the Evil Masters were repelled, but, as seen in QUOD INIT EXIT IIm, during their retreat, Huenison and his companions happened to pass by planet Suinio and decided to cause trouble there as well. Having witnessed the Evil Masters' cruelty, the Pemkians decided develop the defense training program that SkillGrid is part of. In MAH, years later, the danger came from the Apocalypser, the weapon that had been developed against the Evil Masters and that the Purifiers activated to destroy the Earth. Finally, KOG assigns a new task to the hero who turned the Apocalypser off.
| | |
| --- | --- |
| Status | Released |
| Platforms | Windows, macOS, Linux |
| Release date | Apr 03, 2009 |
| Rating | |
| Author | RETREAM |
| Genre | Puzzle, Shooter, Survival |
| Made with | MilkyTracker, SDL, Audacity, GIMP |
| Tags | 2D, Dungeon Crawler, Exploration, Pixel Art, Retro, Third Person, Top-Down |
| Average session | About an hour |
| Languages | Danish, German, English, Spanish; Castilian, Finnish, French, Italian, Dutch, Norwegian, Polish, Swedish |
| Inputs | Keyboard, Gamepad (any), Joystick |
| Accessibility | Configurable controls |
| Links | Online Standings, Key Retrieval, Patreon, Twitter |
Install instructions
INSTALLATION
CD image: burn it to a CD-R or mount it as a virtual CD, open the disc, run the installer, and follow the instructions.
Archive: unpack it to any directory, open the directory, run the installer, and follow the instructions.
One-file installer: run it and follow the instructions.