MAH
A downloadable Commodore 64 game for Windows
THIS GAME IS 100% FREE, BUT, IF YOU LIKE IT, PLEASE OFFER SOME SUPPORT TO SOMEBODY WHO IS A VICTIM OF ANY KIND OF VIOLENCE.

---
THE WORLD NEEDS YOU
The Apocalypser has been activated. Turn it off before it brings Earth to an end.
WHAT IS THIS?
MAH is an arcade game which brings you frantic, immersive, rich, and totally innovative gameplay.

Your objective is to stop the Apocalypser's 90 minutes countdown. You are obstructed by the ApocalypShield, a software system made of 24 security layers and numerous virtual guards. You operate a hacking tool called Peekpoker.

Get ready to live and experience that will never cease to challenge and amaze you!
FEATURES
Original, deep, ever-evolving gameplay
24 layers divided in 2 to 8 (sub)phases, each with distinctive mechanics
Colorful hires graphics
138 different enemies
Dynamic context-driven music
10 tunes + 7 ditties
Hiscores saving
Stylish introduction and ending
Comprehensive documentation
---
SUPPORTED SYSTEMS AND FORMATS
MAH is a Commodore 64 game.

It is available on cartridge from RGCD...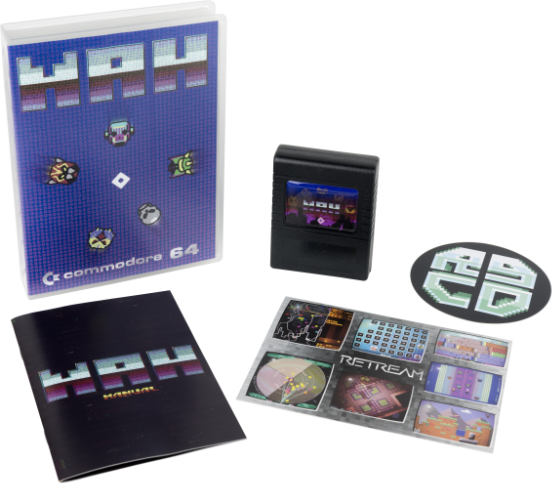 ... on disk from Protovision...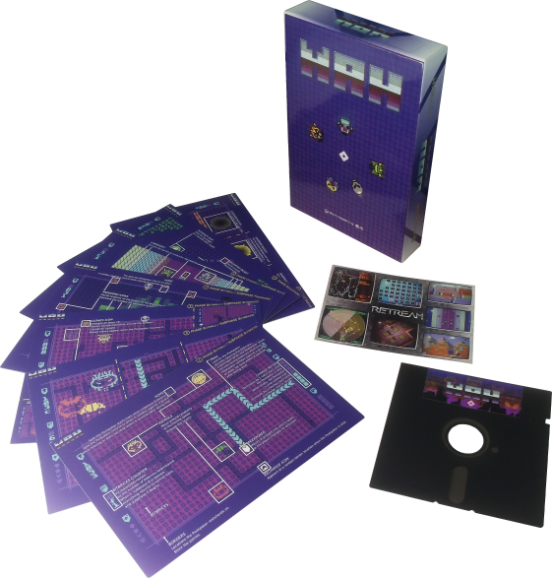 ... and digitally here, as a package that also allows to install and run the game as if it were a native AmigaOS 4 or Windows application (thanks to the VICE emulator).
Requires: PAL C64 computer (disk version: + 1541 drive)
Recommended: joystick
Compatible with: any SID chip (disk version: + 1541 drive emulators, sd2iec devices, fast loaders)
---
DETAILS FOR TECH-SAVVY GAMERS
The game sports/utilizes:
100% high resolution graphics
sprites overlaying/multiplexing/zooming
sprites-background prioritization
pixel-perfect collision detection
character-based animations
parallax
raster beam synchronization
open vertical borders
flicker-free rendering
screen transitions
context-sensitive music
variable speed music playback
code load distribution
50 FPS full screen free positioning (ending only)
stand-alone, single-load parts (frontend, intro, manual, game, ending)
To overcome the limitations of the hardware sprites, objects use the following arrangements of sprites (overall size / number of colors / number of sprites - objects):
24x21/1/1 - patrols, Dogguard, satellites, Ghostease, Peekpoker, beams, intro arrow
24x21/4/2 - keys, frontend items
24x21/4/4 - combosses, Super Peekpoker
24x21/5/3 - Brickbot, Lockhead, Cobermann
24x21/6/4 - Zig-Zagger
24x21/7/5 - ending spaceship
48x21/2/3 - ending credits
48x42/1/3 - Ghosthrill, Ghostorment, Ghosterror
72x40/5/7 - antiviruships
48x42/6/13 - guardians
The game programs have been created in a very special way: the source code is written in BASIC-BOSS + 6510 machine language wrapped in a custom C framework -> then compiled into executables for AmigaOS 4 -> which generate highly optimized source code -> which is compiled with the BASIC-BOSS COMPILER into native C64 programs.
---
THE SAGA
MAH is part of a saga that, as of writing, includes six different games.
BOH opens the story, with the Evil Masters bringing chaos to Earth. Huenison focuses on the fight against one of them, the eponymous character. Eventually the Evil Masters were repelled, but, as seen in QUOD INIT EXIT IIm, during their retreat, Huenison and his companions happened to pass by planet Suinio and decided to cause trouble there as well. Having witnessed the Evil Masters' cruelty, the Pemkians decided develop the defense training program that SkillGrid is part of. In MAH, years later, the danger came from the Apocalypser, the weapon that had been developed against the Evil Masters and that the Purifiers activated to destroy the Earth. Finally, KOG assigns a new task to the hero who turned the Apocalypser off.
| | |
| --- | --- |
| Status | Released |
| Platforms | Windows |
| Release date | Jan 31, 2018 |
| Rating | |
| Author | RETREAM |
| Tags | 2D, 8-Bit, Abstract, Arcade, chiptune, Commodore 64, Futuristic, Pixel Art, Retro, Sprites |
| Average session | About an hour |
| Languages | English |
| Inputs | Keyboard, Gamepad (any), Joystick |
| Links | Patreon, Twitter |
Download