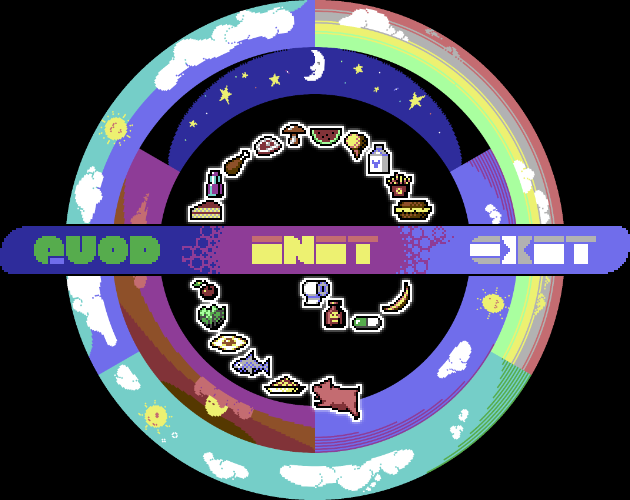 QUOD INIT EXIT
A downloadable Commodore 64 game
THIS GAME IS 100% FREE, BUT, IF YOU LIKE IT, PLEASE OFFER SOME SUPPORT TO SOMEBODY WHO IS A VICTIM OF ANY KIND OF VIOLENCE.

---
ZAMPO IS HUNGRY - AND NEEDS YOUR HELP
Everybody has their own philosophy of life. Zampo's is: whatever goes in, comes out. There's no changing your dear friend's mind, so you're by his side in his ravenous quest...
QUOD INIT EXIT is a fixed-screen platformer which oozes fun, cute graphics and upbeat music.
You control Zampo with the aim of feeding him constantly from dawn to night, making sure he never starves or is forced to run away in the grips of his, erm, physiological needs. Easier said than done, and funnier done than said!
REQUIREMENTS
MINIMUM: PAL Commodore 64 computer, PAL display, loudspeakers, 1541 drive (for disk version)
OPTIONAL: joystick
FORMATS
QUOD INIT EXIT comes on cartridge (EasyFlash) and disk images, but, to let everyone enjoy it easily, it is available also for AmigaOS 4 and Windows as a package that allows to install and run the game as if it were a native application (thanks to the VICE emulator).
TRIVIA
QUOD INIT EXIT v1.3 was published on cartridge by RGCD in 2012.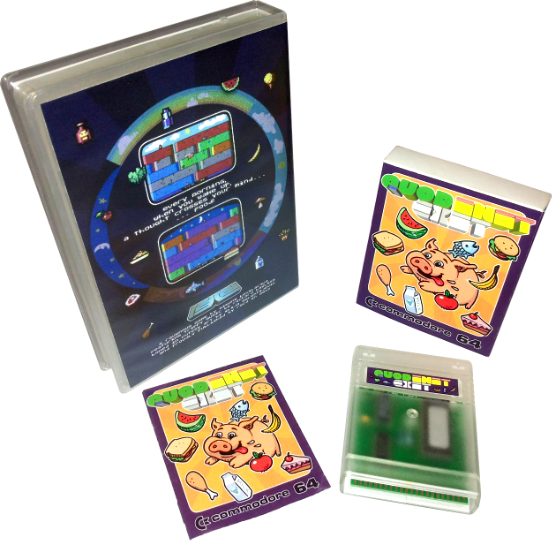 QUOD INIT EXIT is based on a very complex joke among the author and a circle of his friends. When the first version was completed, it was given as a birthday present to the guy who invented "Tutto ciò che entra, esce" (the Italian equivalent of "Quod init, exit", which, in turn, is the Latin for "Whatever goes in, comes out").
QUOD INIT EXIT has also a sequel that provides extra (eating) fun: QUOD INIT EXIT IIm - check it out!
Download
Download
C64 cartridge and disk images (.crt + .d64)
42 kB