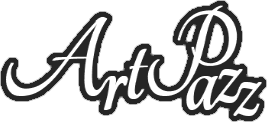 ArtPazz
A downloadable Amiga game
AN ALTERNATIVE TAKE ON JIGSAW PUZZLES
ArtPazz is a puzzle game where the player has to piece together the tiles an image has been split into. The size and the shape of the tiles can be adjusted, which allows to set the difficulty to anything from to tremendously easy to brain-wracking. ArtPazz has been designed to be very simple and suitable for all ages, so learning how to play is a matter of minutes or even just seconds.
IMAGES AND TUNES
The player can add images and tunes by putting them into the appropriate drawers.

The images that come with the game are cropped, resized, down-colored versions of these paintings:
Bal du Moulin de la Galette (Pierre-Auguste Renoir, 1876)
Cenacolo (Leonardo da Vinci, late 1490s)
De Sterrennacht (Vincent van Gogh, 1889)
De Weinig Toren van Babel (Pieter Bruegel, 1563)
Kanagawa-oki Nami Ura (Katsushika Hokusai, ~1830)
La Creazione di Adamo (Michelangelo Buonarroti, ~1512)
La Liberté Guidant le Peuple (Eugène Delacroix, 1830)
La Scuola di Atene (Raffaello Sanzio, ~1511)
Nighthawks (Edward Hopper, 1942)
Un Dimanche Après-midi à l'Île de la Grande Jatte (Georges Seurat, ~1886)
The paintings have been chosen according to specific criteria. They had to:
be famous globally;
belong to different artists;
cover different styles as much as possible;
be free from (too large) single-color areas;
be free from copyrights;
be in landscape format;
look beautiful;
fit on a single floppy disk.
TECHNICAL HIGHLIGHTS
ArtPazz has been written in AMOS Professional 2.00, without third-party add-ons. However, thanks to the self-produced ALS engine, it is a proper AGA game - in fact, it uses 8 bitplanes, uses 24-bit colors and allows 6-bit images under a 2-bit overlay with translucent colors!
REQUIREMENTS
Amiga computer, AGA chipset, 360 kB of CHIP RAM, 240 kB of other RAM, PAL display, stereo loudspeakers, keyboard and/or digital joystick and/or mouse, 830 kB of storage space (if installed)
Download
Click download now to get access to the following files:
pre-installed copy (.lha)
697 kB
floppy disk image (.adf)
880 kB